John Glatt
St. Martin's True Crime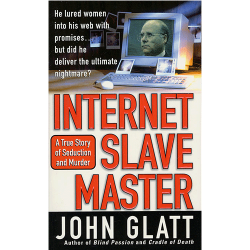 John Edward Robinson was a 56-year-old grandfather from rural Kansas. An entrepreneur and Eagle Scout, he was even honored as 'Man of the Year" at a Kansas City charity. To some of the women he met on the Internet, he was known as Slavemaster–a sexual deviate with a taste for sadomasochistic rituals of extreme domination and torture.
Masquerading as a philanthropist, he promised women money and adventure. For fifteen years, he trawled the Web, snaring unsuspecting women. They were never seen again. But in the summer of 2000, the decomposed remains of two women were discovered in barrels on Robinson's farm, and three other bodies were found in storage units. Yet the depths of Robinson's bloodlust didn't end there. For authorities, the unspeakable criminal trail of Slavemaster was just beginning…
Internet Slave Master is a true story of sadistic murder in the Heartland, told by true crime master John Glatt.
BUY NOW