Chilling True Stories of Twins, Killing and Insanity
John Glatt
St. Martin's True Crime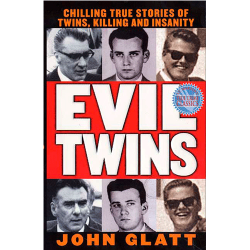 They give a whole new meaning to the phrase "Dead Ringers."
Identical twins, with the exact same genetic information, are a fascinating study in human behavior. It is a known fact that when separated at birth, they will often end up with very similar lives, without ever having met one another. So it seems to follow that if one twins turns out to be a "bad seed," the other will also go to the dark side. the shocking stories in Evil Twins prove this to be the case time and time again. And even more astounding are stories of twins turning upon each other in furious rivalries that may date back to the womb. Here is just a sampling of the compelling true stories about evil twins:
Sins of the mothers: Harvard-educated chemical engineer Jane Hopkins stabbed her two young children to death before killing herself-six years after her twin sister Jean had tried to poison her own two children…
My brother's killer: Identical twins Jeff and Greg Henry were close as brothers could be, inventing their own language and often exchanging identities. But they grew up to become violent alcoholics, and on one fateful binge, Jeff turned on his own twin brother and shot him in the heart with a shotgun…
Loathsome Lotharios: Handsome, charming twin brothers George and Stefan Spitzer went to Hollywood to become famous actors. But their movie-star good looks never landed them any parts-except in the lurid home movies they shot of themselves raping the unconscious women they doped up on "Roofies"…
Evil twins: Double the deadliness…with eight pages of shocking photos!
BUY NOW