The True Story of Chris Watts, His All-American Family, and a Shocking Murder
John Glatt
St. Martin's Press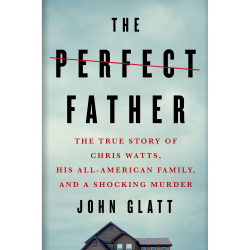 In the early morning hours of August 13th, 2018, Shanann Watts was dropped off at her Frederick, Colorado home by a colleague after returning from a business trip. It was the last time anyone would see her alive. By the next day, Shanann and her two young daughters, Bella and Celeste, had been reported missing, and her husband, Chris Watts, was appearing on the local news, pleading for his family's safe return.
But Chris Watts already knew that he would never see his family again. Less than 24 hours after his desperate plea, Watts made a shocking confession to police: he had strangled his pregnant wife to death and smothered their daughters, dumping their bodies at a nearby oil site. Heartbroken friends and neighbors watched in shock as the movie-star handsome, devoted family man they knew was arrested and charged with first degree murder. The perfect mask Chris had presented to the world in his TV interviews and the family's Facebook accounts was slipping—and what lay beneath was a horrifying image of instability, infidelity, sexual ambivalence, and boiling rage.
In this first major account of the case, bestselling author and journalist John Glatt reveals the truth behind the tragedy and constructs a chilling portrait of one of the most shocking family annihilator cases of the 21st century.
BUY NOW