The True Story of a Hotel Heir, His Seductive Wife, and a Ruthless Murder
John Glatt
St. Martin's Press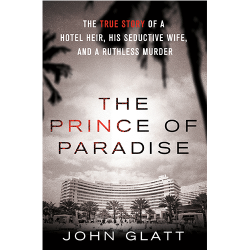 Ben Novack, Jr. was born into a life of luxury and opulence. Heir to the legendary Fontainebleau hotel, he spent his childhood surrounded by some of the world's biggest stars, including Frank Sinatra and the Rat Pack, Elvis Presley, and Ann-Margret, who performed regularly at the Fontainebleau's La Ronde Room. He sat by while his parents entertained presidents and movie stars, as they reigned over Miami Beach in the '50's and '60's, and when the family business went sour he became wealthy in his own right, founding a multi-million dollar business using connections he made at the Fontainebleau.
But Ben, Jr.'s luxurious, celebrity-studded lifestyle would end in another hotel room—a thousand miles away from the one where he grew up—when police found him bound up in duct tape, beaten to death.
Seven years earlier, police found Novack in an eerily similar situation—when his wife Narcy duct-taped him to a chair for twenty-four hours and robbed him. Claiming it was a sex game, he never pressed charges and never followed through with a divorce. Now prosecutors claimed Narcy let the vicious killers into the room and watched as they beat her husband with dumbbells. They also suspected she was involved in the horrendous death of Novack's mother, just three months before. But it would be Narcy's own daughter who implicated her to the police—in this twisted case of passion, perversion, and paradise lost.
BUY NOW
Read the Review by Publishers Weekly (February 11, 2013)